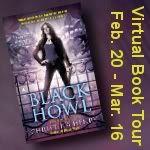 Christina Henry stops by SciFiChick.com today to talk about her latest book on her Black Howl Blog Tour!
—
Can you tell us a bit about Black Howl and where we are in Madeline Black's story?
In BLACK HOWL, Maddy's got problems on top of problems, as usual. There are ghosts popping up all over Chicago whose deaths have not been foreseen by the Agency prophets. This means that these deaths are outside of the natural order, and it's up to Maddy to find out who's behind it all.
Of course, Maddy's love life hasn't gotten any easier either. Gabriel is now her thrall, and their happily ever after looks like it's more out of reach than ever.
Urban fantasy/paranormal novels are popular and widespread right now. What different about the Black Wings series that sets it apart from the others?
The genre has just exploded in the last few years, and it's amazing for fans of the paranormal. It means there's something out there for pretty much everyone. I think BLACK WINGS and its sequels are a little bit different because the books are a real mash-up of genres – there's action, comedy, romance, more action! Plus, while there are more books featuring angels than there were when I first wrote BLACK WINGS, angels remain a fairly small subset of the overall genre.
How many books do you have planned for the Black Wings series?
Right now there are at least six books planned for the series. After that, we will see how much more story there is to tell.
What's next for you, after Black Howl? Any other stories on the horizon?
I do have an idea for a stand-alone novel and another series, but they are both in the planning stage. I've got two books in the BLACK WINGS series scheduled for this year and I'm not sure I'll have time to do much else!
Tell us a bit about yourself and your experience in writing.
I always wanted to be a writer, and I dabbled at it for years, writing short stories. When my son was two years old I decided to run a marathon for the first time. After I finished the marathon I thought, "If I can run 26.2 miles then I can write a book." I had about 60 pages of BLACK WINGS written at that point, but I was just picking at it here and there. Once I decided to finish the book I wrote the rest of it in about a month during my son's naptimes.
What inspires you?
Great writing. When I read a really good book by an author I love I always feel energized to write. I also find a lot of inspiration on my long runs. I get into a rhythm while running and let my mind drift, and usually I solve a lot of writing problems that way,
Who are some of your favorite authors? What books do you love?
Jim Butcher, Charlaine Harris, Joe Hill, Stephen King, Jane Austen, Neil Gaiman, Richard Russo, Michael Chabon, Raymond Chandler, Dashiell Hammett, Jim Thompson, Bill Bryson.
My favorite books are ones that have compelling characters, and I love great dialogue. I re-read PRIDE&PREJUDICE every year for just that reason. Richard Russo's NOBODY'S FOOL is probably my all-time favorite book. It's just a masterpiece of characterization.
What do you do when you're not writing? In your spare time?
I live a very un-glamorous life. I like to run, to read, to bake, to go to Costco and to watch strange movies. A recent favorite is DETECTIVE DEE AND THE MYSTERY OF THE PHANTOM FLAME starring Andy Lau.
On the weekends my family and I like to go to museums, or when the weather is nice we'll go for long bike rides.
Thanks for your time! Is there anything else you'd like to add?
Thank you so much for having me here today!
Courtesy of Ace Books, I have an extra copy of Black Howl for one (1) lucky winner!

Contest is open to US and Canada only. To enter, just fill out the form below. Contest ends March 23. I'll draw a name on March 24, and notify winner via email.

Good luck!