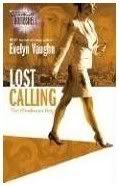 Since Tuesday night is a slow TV night, I just read all evening. I finished up Lost Calling, by Evelyn Vaughn. This is the first in the Madonna Key series and falls into the category of romantic suspense.
Catrina Dauvergne is a museum curator who finds herself in the midst of an earthquake in Paris, France. When she falls into a fissure, she discovers special artifacts among bones dating back 200 years. When she touches the artifacts, she has visions of the women who owned the pieces when they were alive.
But while Catrina and her friends try to uncover this 200-year-old mystery, others are after Catrina to stop her or kill her. With plenty of romance and plenty of suspense, this was a fun break from what I usually read.
My major complaint is that the artifacts found, were never described thoroughly enough. I could never picture in my mind the Black Madonna's, and probably have more education in the arts than most!
________________
I'm also halfway through Eldest, by Christopher Paolini. It's been a little slow, but still engaging.
________________
And check out BooksForSoldiers.com. It's a neat way for book lovers to give back to our soldiers overseas!